Click each presenter's name to learn more:
Abiola Abrams
Abiola Abrams is a Love Columnist and Lifestyle Expert who writes and broadcasts TV, radio and web shows about sex, relationships and lifestyle. In addition to being an MTV Teen Dating Empowerment Coach on the reality series "Made," Abiola's upcoming book, "The Bombshell Handbook for Rockstar Living," is part humorous memoir, part fun advice guide. "Dare" (Simon & Schuster) was Abiola's popular debut and her essays have been published in anthologies such as "Behind the Bedroom Door," "Dirty Words: A Literary Encyclopedia of Sex," and Eve Ensler's "A Memory, A Monologue, A Rant and a Prayer." Abiola has hosted TV shows like BET's Short Film Showcase, HBO's "The Buzz" BBC Radio's "Up All Night" and NBC's "Source: All Access," as a social experiment starred as "Miss Picky" on VH1 reality series "Tough Love." Recent press includes a feature about sex toys in "Essence Magazine". As a part of her ongoing safe sex initiative she directed the award-winning feminist erotica art film, "Afrodite Superstar" and curated the Chashama Gallery exhibit "Hos, Putas and Dragon Ladies: Our Sexuality Remixed" in association with Eve Ensler's V-Day. Abiola has a BA from Sarah Lawrence and an MFA from Vermont College of Fine Arts. @abiolatv
Abiola will be presenting Merging Identities: Avoid the Pink Glass Ceiling and Rockstar Your Goals.
************
Diana Adams
Diana Adams is founder and principal of Diana Adams Law, a legal and mediation practice with offices in Brooklyn and Albany, serving non-traditional families. As an attorney, she is a fierce agitator for sexual civil rights and an advocate for new, 'alternative' relationship options, including polyamory. Diana works frequently with gay, lesbian, polyamorous, and unmarried clients who wish to start families with intention and legal stability, assisting these families with adoptions, co-parenting and sperm donor agreements, and financial arrangements for co-habitation. Diana also represents parents in child custody cases whose kinky, queer, poly or otherwise nontraditional sexualities may be turned against them in court. She advocates for unbundling legal partnership benefits from marriage, so that those who choose not to marry are not disadvantaged in terms of taxes, health insurance, and other legal benefits.
An out-and-proud polyamorous, queer, bisexual woman, Diana is a nationally recognized speaker on legal alternatives to marriage, and sits on the Advisory Council of the Woodhull Freedom Foundation, an NGO advocating for the recognition of sexual freedom as a basic human right. She is also involved with the Alternatives to Marriage Project, and serves as an in-house legal expert for the New York City's own LGBT Community Center. Her work as an attorney, empowerment counselor, and relationship educator has been noted in the New York Times, the Washington Post, and New York Magazine, and she and her poly family were featured on MTV's True Life series in 2009. She is also a leader for Open Love NY – an organization devoted to supporting polyamorous people with resources and education on forging and maintaining healthy open relationships. Diana was the 2011 recipient of the Folsom Street East Sexual Freedom Hero Award.
Diana will be presenting Sexual Freedom and the Law.
************
Megan Andelloux is a nationally certified sexuality educator through The American Association of Sexuality Educators, Counselors and Therapists and is a board certified sexologist through The American College of Sexologists. She has worked full-time in the field of Sexual Education for more than 14 years.
She lectures internationally at colleges, universities, medical schools, and institutions on issues surrounding sexual health, sexual pleasure, comprehensive sexuality education, sexual politics, and erotic justice. She developed the Gynecological Training Program for Boston University School of Medicine, and in addition works as a Gynecological Teaching Associate at medical institutions on the East coast. She founded and runs The Center for Sexual Pleasure and Health, a not for profit sexuality resource center in Pawtucket, RI.
Ms. Andelloux has been a contributing author in the following books; Taking Sides, Controversial Issues in Human Sexuality, Naked At Our Age, Talking Outloud about Senior Sex, Sex and Society, and We Got Issues; A Young Women's Guide to A Bold and Empowered Life. She is the author of a recent journal publication on Products for Sexual Lubrication, Understanding and Addressing Options with Your Patients, found in Nursing for Women's Health.
Megan is a panelist on Putting the Pleasure into Risk and Harm Reduction Sex Education! and is presenting The Three P's of Porn – Pleasure, Politics and Personhood.
************
Heidi Anderson
Heidi Anderson is a rabid sex-positive feminist/atheist/skeptic in the Buckle of the Bible Belt. She has been an advocate, activist, fundraiser, and educator serving victims of partner abuse and/or sexual assault, as well as LGBTQ youth, for the past sixteen years in the conservative Upstate region of South Carolina.
Heidi is also a freelance writer, blogger, and public speaker using sex positive feminism and science based skepticism to increase awareness of the importance of healthy sexuality. She has written for Skeptical Inquirer, Sexis, Clean Sheets, and The Erotic Woman. She blogs at FatOneintheMiddle.com, is a Good Vibrations Sexy Mama blogger, and is the creator and editor of SheThought.com, a multi-authored site on women and critical thinking. She has been a featured speaker and panelist at many conferences on topics such as the science of sexuality, sexual minorities, domestic violence and sexual assault, secular parenting, and body image, and was the sexuality correspondent on the Parenting within Reason podcast. @heidihosc
Heidi Anderson is a panelist on Being the Change you Want to See: Helping Stem the Tide of Silence about Sexual Abuse in Sex-Positive Communities and Putting the Pleasure into Risk and Harm Reduction Sex Education!.
************
Chloe Angyal
Chloe Angyal is a writer, blogger and an Editor at Feministing, the world's most-read feminist publication. She writes about sex, politics and popular culture, and her expertise is in romantic comedies, and her writing has been published in The Atlantic, The Guardian, Slate, Salon and Jezebel. Angyal is a graduate of Princeton University, where she was the president of the Eating Concerns Advisors and the founding editor of Equal Writes, the university's first feminist publication. She is originally from Sydney, Australia. @chloeangyal
Chloe Angyal is a panelist on Chewing the Cyberfat: Body Weight, Size, and Sex Online.
************
Brian Ballard
Brian Ballard has been actively pursuing a life of honest and ethical non-monogamy for over 7 years. He is passionate about opening people up to new choices and possibilities, encouraging and inspiring others to fearlessly invent the life style and relationships of their dreams. Through his work and association with The Martini Society, FreedomCommunity and other online communities, and through organizing special events welcoming positive self-expression, play and exploration, he has had the pleasure of watching many people open themselves to new entirely new ways of living.  Brian is thrilled to be presenting at Momentum with his life partners Lisa and Jasmine! @beeskwared
Brian will be co-presenting Self Expression: A Discussion on How to Be Yourself Online and Offline.
************
Metis Black
Metis founded and built Tantus Inc., a sex toy manufacturing company that has helped change the profile of sexuality products. She has used Tantus to mainstream silicone products and educate the industry on material safety and sexuality.
Metis' success has brought her accolades inside and outside of her industry. Her articles on material safety standards in sexual products and the chemistry of personal products such as lubricants have been widely published. Some of her publishing credits include Good Vibrations Online Magazine, On Our Backs, Adult Novelty Business, XBiz, and The Free Speech Coalition. Over the last decade, Metis has proven to be a champion for sex educators and a mentor to other small business owners.  @metisblack
Metis is a panelist on The Dirty Business of Sex Toys.
************
Hanne Blank
Writer Hanne Blank spends her time thinking, learning, writing, and speaking at the nexus of bodies, self, and culture. Joyfully spanning the town/gown divide as well as the mind/body split, her books include the histories Straight: The Surprisingly Short History of Heterosexuality and Virgin: The Untouched History, the cult classic sex and body-acceptance book Big Big Love: A Sex and Relationships Guide for People of Size (and Those Who Love Them), and numerous others. A former Scholar of the Institute for Teaching and Research on Women at Towson University, Hanne has taught in various capacities on campuses including Brandeis and Tufts. She is also a popular speaker and guest lecturer, with appearances ranging from Harvard University to the inaugural Femme Conference and on topics from historiography to sex advice.  She lives in an old stone mill house on a dirt road in the middle of Baltimore with her partner of fifteen years. @hanneblank
Hanne Blank is a panelist on Chewing the Cyberfat: Body Weight, Size, and Sex Online.
************
Rachel Kramer Bussel
Rachel Kramer Bussel is an author, editor, blogger and event organizer. She is the editor of over 40 anthologies, including Women in Lust, Obsessed, Gotta Have It, Best Bondage Erotica 2011 and 2012, Orgasmic, Fast Girls, The Mile High Club, Do Not Disturb, Spanked and Bottoms Up, as well as the nonfiction Best Sex Writing series. She writes a biweekly column for SexIs Magazine. Her erotica has been published in over 100 anthologies, including the Best American Erotica series and Zane's Succulent: Chocolate Flava II and Purple Panties, and her writing about books, pop culture, sex and dating has been published widely, including The Daily Beast, The Frisky, The Gloss, Jezebel, Mediabistro, The Root, Time Out New York, The Village Voice and Zink.  @Raquelita
Rachel will be presenting Erotica 101.
************
Maggie Campbell
Maggie Campbell is an activist, poet, blogger, zinester, and lover in Washington, DC with a passion for social media, queer theory, and non-violent communication. Maggie is a BA student in Sociology and Women's, Gender & Sexuality Studies at American University and has completed past research on the experiences of trans* folks in the Dutch women's emancipation movement, as well as research on the binary socialization of genderqueer youth. They have spent the last year immersed in genderqueer and trans* Tumblr communities and are currently working on a thesis exploring the creation of social identity through collective association with online content.
@asimple_melody
Maggie will be presenting Sexuality and Social Media.
************
Rebecca Chalker
Rebecca Chalker, Ph.D. in Sexology, is a certified sexuality counselor, and teaches "The Cultural History of Sexuality" at Pace University in New York City and at Florida State University in Tallahassee. Her book, The Clitoral Truth, was featured on HBO's Sex and the City. She's presented at numerous U.S. and international sexology conferences, and her articles have appeared in AlterNet, RH Reality Check, On Our Backs, On The Issues, Ms. and The Village Voice, as well as peer-reviewed academic journals. She worked at the Feminist Women's Health Center in Los Angeles from 1978-1982, edited their classic text, A New View of A Woman's Body, and authored the definitive book on the cervical cap for users, providers and policymakers. Chalker is currently writing a book on "The Pleasure Revolution," and is fundraising for a film on "The Case of the Missing Clitoris: An Anatomical Detective Story." @clitoraltruth
Rebecca will be co-presenting The Pleasure Revolution: Feminst Subversives Then and Now.
************
Nicole Clark
Nicole Clark is a social worker, consultant, and sexual health activist who has worked with local and national sexual/reproductive justice organizations, such as Helping Our Teen Girls In Real Life Situations, Inc. (HOTGIRLS), Advocates for Youth, Religious Coalition for Reproductive Choice (RCRC), the Pro-Choice Public Education Project (PEP), The Cool Girls, Inc., the Young Women of Color HIV/AIDS Coalition (YWCHAC), Planned Parenthood of New York City, and New York chapter of SisterSong Women of Color Reproductive Justice Collective. Nicole began her work in this field when she volunteered during the first SisterSong Reproductive Justice Conference in November 2003, and still carries the passion and creativity that she absorbed during that amazing conference.  Nicole lends her expertise as a consultant with nonprofits and community groups who want to improve their approach to developing culturally relevant and youth and/or gender-positive programming, campaigns, and initiatives. She has a B.A.  in Psychology from Spelman College (Atlanta, Georgia) and a Masters of Social Work degree from the Columbia University School of Social Work (New York City) with a practice method centered on direct practice/counseling & programmatic planning. Nicole is based in New York City.   @MsNicoleClark
Nicole Clark will be presenting Can We Love God & Sex: Young Women, Media, and Making Room for Sexuality & Spirituality.
************
Jenna is deeply committed to her efforts as a SWOP officer and an activist in many facets of the sex worker community. She has worked in several major cities including Los Angeles, New Orleans, and New York City.  Jenna's extensive experience informs her work as an advocate for public health and a passionate volunteer at the St James Infirmary. @swopbay
Jenna is a panelist on How to Be an Ally to Sex Workers.
************
Lynn Comella
Lynn Comella is a Women's Studies professor at the University of Nevada, Las Vegas. Dr. Comella has written extensively about sexual politics, the history of feminist sex toy businesses, and the women's market for sex toys and pornography. She is a frequent media commentator and writes a monthly column for Las Vegas Weekly on sexuality and culture. @LynnComella
Lynn is a panelist on Feminist Porn as Cultural Critique and will be moderating The Dirty Business of Sex Toys.
************
Dangerous Lilly
Lilly is sex blogger who falls into the "eclectic" category with a bent towards exhibitionism/voyeurism. She blogs about anything ranging from relationships to sex toy education; throwing in the occasional racy self-portrait or jaded sex toy review and topping it all off now and then with OpEd pieces that sometimes turn into rants. It's safe to say you never know what you'll find on her blog!
In addition to blogging, Lilly is the creator of the e[lust], a monthly publication of blogger-submitted posts on everything about sex & relationships. She also has created communities just for fellow sex bloggers, such as the Toy Swap Network or Wanton Wednesday. Even though her fingers might be in more pots than any sane person would tackle, she is finding her love for teaching with the Sex Blogger Education courses at e[lust] and will not hesitate to tell you if your blog design hurts her eyes. She means well though, bless her heart. @DangerousLilly
Dangerous Lilly will be co-presenting Blogging 202: Take Your Site to the Next Level.
************
Greg DeLong, founder of njoy, a sex toy company whose ethics based philosophy is to create safe, quality products that enhance the enjoyment of your body and your sexuality, is the ultimate sex nerd. He can often be found scribbling designs on cocktail napkins and calculating the the number of orgasms his beautiful O-award winning sex toys have produced. DeLong, a mechanical engineer by training, has put his talents to good use, designing the Pure Wand, a toy many woman credit for helping them discover and njoy their g-spot.
Greg is a panelist on The Dirty Business of Sex Toys.
************
Kimmie David
Kimmie David is a worker-owner at Bluestockings, New York City's only collectively-owned feminist bookstore. She is a Filipina-American-New-Yorker, nonmonogamous kinky queer-hard-femme book-geek and nerd-in-general who pulls really good espresso shots while discussing the state of the independent bookstore in today's climate. @kimmiecakes
Kimmie is a panelist on The Publishing Revolution: How Writers, Editors and Publishers are Making New Media Work.
************
Jane Duvall
Jane Duvall is: a former sexworker, a once-active participant in the BDSM community (and one of the founders of Seattle's Center for Sex Positive Culture), a suburban mother of three, and the founder and owner of JanesGuide.com, an online directory of adult websites that has been around since 1997, among other things. She has been writing and talking about sex for the past 15 years. Sometimes she even gets to HAVE sex, which she prefers to writing about it. @JanesGuide
Jane Duvall is a panelist on Being the Change you Want to See: Helping Stem the Tide of Silence about Sexual Abuse in Sex-Positive Communities.
************
Dr. Joycelyn Elders
A native of Schaal, AR., Dr. Elders is the oldest of eight children. Now a Professor Emeritus of pediatric endocrinology, at the University of Arkansas School of Medical Science, Dr. Elders never saw a physician prior to her first year in college. At the age of 15 she received a scholarship from the United Methodist Church to attend Philander Smith College in Little Rock, AR. Upon graduation at age 18, she entered the U.S. Army as a first lieutenant and received training as a physical therapist.
Dr. Elders attended the University of Arkansas Medical School (UAMS) on the G.I. Bill. After graduation in 1960, she was an intern at the University of Minnesota Hospital in Minneapolis and did a pediatric residency and an endocrinology fellowship at the University of Arkansas Medical Center in Little Rock and she ascended the academic ladder to full professorship after her fellowship and board certification in 1976. She also holds a Master of Science degree in biochemistry.
Dr. Elders joined the faculty at UAMS as a professor of pediatrics and received board certification as a pediatric endocrinologist in 1978. Based on her studies of growth in children and the treatment of hormone-related illnesses, she has written many articles for medical research publications. She was appointed Director of the Arkansas Department of Health in October of 1987. While serving as director, she was elected President of the Association of State and Territorial Health Officers.
Dr. Elders was nominated as Surgeon General of the U.S. Public Health Service by President Clinton on July 1st, 1993, confirmed by the Senate September 7th, and sworn in on September 8th. Dr. Elders served in this post until January 1995 following which, she returned to the University of Arkansas Children's Hospital until her retirement on June 30th, 1998. Dr. Elders has also received multiple honorary Doctorate of medical sciences degrees and honorary doctorate of letters degrees.
Dr. Elders is a panelist on our closing keynote plenary, Sex in America: Changing the Conversation Beyond Smut and Sanctimony.
************
Maria Falzone
After a stretch as a stand-up comedian, Maria Falzone took her comedic talents and applied them to the world of sex education. Falzone's act "SEX RULES" is a hilarious and inspirational performance that addresses serious sexual subjects in a frank and funny manner.  Through lecture and audience participation, Falzone speaks to students about topics from safe sex to self-sex and everything in between.  The message behind "SEX RULES" is that sex should be fun and satisfying emotionally, as well as physically.
Maria Falzone has placed third in the San Francisco Comedy Competition, as well as being the first female host for the competition.  In addition, she has been on TV comedy shows including A&E's "Evening at Improv," Showtime's "Full Frontal", and NBC's "Friday Night." @mariafalzone
Maria will be performing right before opening our keynote plenary and will be co-presenting Selling Safer Sex to College Students.  Tips and Techniques of the Trade.
************
Avory Faucette
Avory Faucette is a queer feminist legal activist and an award winning expert in international social justice.  Avory writes about sexuality, feminism, and gender from the perspective of a young, radical genderqueer feminist.  Zie uses teaching, writing, and activism to boldly challenge our conventional ideas of gender and sexuality and encourage a thoughtful dialogue among all different perspectives.  Zir writing appears on the blogs Radically Queer, Sex Positive Activism, Girl w/ Pen, and Gender Across Borders.  @QueerScholar
Avory will be presenting Workshopping Your Sexual Orientation.
************
Jaclyn Friedman
Jaclyn Friedman is a writer, performer, and activist, and the editor of the hit book Yes Means Yes: Visions of Female Sexual Power and a World Without Rape (one of Publishers' Weekly's Top 100 Books of 2009).
Her new book, What You Really Really Want: The Smart Girl's Shame-Free Guide to Sex & Safety, is due out Nov. 1 from Seal Press.
As an undergraduate, Jaclyn thought she was too smart to become a victim of sexual assault – until another student proved her wrong. That experience eventually led her to become a student and instructor of IMPACT safety training. At IMPACT, she helped bring safety skills to the communities which most need them, including gang-involved high school students and women transitioning out of abusive relationships.
Jaclyn's article "Drinking and Rape: Let's Wise Up About It," originally published by Women's eNews in February 2007, was reprinted in several major online outlets and has become a popular reference for new thinking about preventing rape without shaming or blaming women. The article – and the public response to it – was the inspiration for Yes Means Yes.
In 2010, Friedman helped redefine the concept of "healthy sexuality" with two landmark pieces: the interview "F*cking While Feminist" and the highly personal polemic "My Sluthood, Myself," which together inspired thousands of responses and explorations across the blogosphere and beyond. Her insistence that authentic sexual liberation is both compatible with and necessary for combating the systemic sexualization and violation of women, led Lyn Mikel Brown (Co-founder of SPARK and Professor of Education and Women's, Gender, and Sexuality Studies, Colby College) to call her "this generation's version of Dr. Ruth."
Friedman is a popular speaker on campuses and at conferences across the U.S. and beyond. She has been a guest on BBC World Have Your Say, Democracy Now!, To The Contrary, and numerous other radio and television shows, and her commentary has appeared in outlets including CNN, The Washington Post, The Nation, Jezebel, Feministing.com, The American Prospect, Bitch, AlterNet, and The Huffington Post. She is a SheSource expert and a Progressive Women's Voices alumna, and was named one of 2009's Top 40 Progressive Leaders Under 40 by the New Leaders Council. Friedman is a founder and the Executive Director of Women, Action & the Media, a national organization working for gender justice in media. Friedman also holds an MFA in creative writing from Emerson College. @JaclynF
Jaclyn Friedman will be presenting Beyond Consent: The Radical Possibilities of Sexuality as an Antidote to Sexualization.
************
Charlie Glickman PhD is a sexuality educator, university professor, and the Education Program Manager at Good Vibrations. In addition to teaching workshops on many different sexual practices and communities of erotic affiliation, he offers classes on sex-positivity, sex & shame, sexual healing,  masculinity & gender, and many other topics. Check him out online at GoodVibes.com and CharlieGlickman.com.  @CharlieGlickman
Charlie is a panelist on our opening keynote plenary,  Momentum: Making Waves in Sexuality Feminism and Relationships and will be presenting Queer is a Verb.
************
Jazz Goldman
Jazz Goldman is an actor, singer/songwriter and social justice advocate and activist. She is a graduate of The New School where she received her degree in Liberal Arts with a concentration in the social sciences and gender studies. Recent performances include a lead role in the acclaimed Hidden: A Gender by, Kate Bornstein. And she was a participant in a panel discussion led by Barbara Carrellas at the Open Center called: Explorations in Modern Love: Part I-The Art of Open Relationships. She currently works as a Sex Educator/Sales Associate for the feminist adult toystore Babeland.  @GoldmanTouch
Jazz will be co-presenting Self Expression: A Discussion on How to Be Yourself Online and Offline.
************
Jill Grimaldi
Jill Grimaldi is a senior Psychology student at Ramapo College of New Jersey. She has been facilitating safer sex workshops, known as Healthy Love Parties, on Ramapo's campus since her sophomore year through her job with the Ramapo College Women's Center. Teaching her peers about safer sex practices, like communication and consent, is a passion that Jill hopes to turn into a career when she graduates in the spring. Jill is also a volunteer advocate for the Bergen County Rape Crisis Center. In her free time Jill edits her own blog, ImagineToday.net) and writes for Not Your Average Feminist and Persephone Magazine. @imagine_today
Jill will be co-presenting Selling Safer Sex to College Students.  Tips and Techniques of the Trade.
************
Brian Gross
Brian Gross, President of BSG PR, has been in the service of media and public relations for over 18 years. Gross has been employed by companies such as Def American Recordings, Warner Brothers Records,Reprise Records, Elektra Entertainment Group, Vivid Entertainment Group, and such organizations as The Lollapalooza Tour. His background includes all facets of public and media relations, working with some of the largest businesses, celebrities and music acts in the world. Brian Gross was an Executive Producer for Reality-X: The Search For Adam & Eve. @bsgpr
Brian will be presenting Sex and the Media: Who Wins?
************
Jennifer Gunsaullus, Ph.D., is a sociologist who works as a relationship and intimacy counselor and educator. She is the creator and host of the In the Den with Dr. Jenn video podcast series. Dr. Jenn specializes in female sexual empowerment, and helps women and couples deepen intimacy, strengthen communication, and improve trust and self-expression. She got her start in the sex field 19 years ago as a sexual health peer educator at Lehigh University in her home state of Pennsylvania. She now lives in San Diego, CA, and merges her practical training in sexual health and academic training in sociology with her passion for holistic health and mind/body/spirit perspectives.
Dr. Jenn is a frequent lecturer on relationship and intimacy topics, as well as an adjunct professor. From wine bars to yoga studies, college classrooms to senior centers, and the LGBT community center to Mensa gatherings, Dr. Jenn offers unique and powerful presentations on healthy communication and fulfilling intimacy. She writes periodically for local publications on these topics and is a "Sex & Relationship Expert" for San Diego Fox 5 News. Dr. Jenn has also been actively involved for many years with the The Vagina Monologues as an actor and director.
Dr. Jenn has over 140 episodes of her video podcast show about sex, intimacy, and relationships called In The Den with Dr. Jenn. This educational resource is available for free through YouTube, iTunes, and DrJennsDen.com. This popular series merges the physical, mental, emotional, social, spiritual, and political components of sexuality, and challenges the audience to develop their critical thinking and media literacy skills. In the Den with Dr. Jenn offers interviews on sexual topics, intimacy advice, relationship tips, sexual fun facts, and commentary on sex in the news. @drjennsden
Jenn will be one of the presenters for Sexuality and Social Media.
************
Twanna Hines
TWANNA A. HINES, M.A., is a New York-based writer, experienced sex educator and reproductive rights advocate. With student loan debt from New York University, her degrees are in sociology. Called one of "the internet's sultriest sharers" by the Village Voice, details about her rendezvous have been printed in Glamour magazine. She has appeared on CNN, NPR, Sirius Satellite Radio as well as CBC (Canadian National Radio) and Paris Première (French Television). She has written for Lifetime, Nerve, New York Press, Fast Company blogs for the Huffington Post. AOL recognized her award-winning site FUNKY BROWN CHICK®. She has also been quoted in New York magazine, Gawker Media, The San Francisco Chronicle, EbonyJet, The Baltimore Sun and Vibe. She is currently finishing her debut memoir.
A skilled educator, Twanna has received certified training in medically-accurate, evidence-based sex education. Respected in the field of interpersonal relationships and human sexuality, her comprehensive approach to education prepares individuals to participate in an increasingly interconnected world. Prior to moving to New York, she developed successful University of Chicago international education programs for high school students and professionals. She created an international journalism panel-discussion series on free speech which attracted an audience of +700 adults. Prior to that, she worked for the U.S. Department of State at the American Embassy in The Hague. Her commentary on immigration was commissioned for the textbook "Migration and Immigration: A Global View."
Twanna has lived and worked in London, Chicago, Amsterdam and Los Angeles. She speaks English and Dutch fluently as well as conversational French. She enjoys passionate love affairs with faraway lands and intelligent men.
She currently lives in New York City. @funkybrownchick
Twanna will be presenting Sex and Cybercrime: "I Know It When I See It."
************
Tina Horn
For the past five years Tina Horn has has worked in the Bay Area as a professional BDSM switch and porn performer. In 2010 she co-created, with Courtney Trouble, QueerPorn.Tv, which explores queer community voices and sexual expression through hardcore porn, free educational segments, and intimate identity discussions. Within its first six months QPTV was honored with a Feminist Porn Award, and was recently nominated for the Best Alternative Website AVN. Tina and Courtney's film "What Makes us Queer" won Best Experimental Short at the 2012 Cinekink Festival. Tina has led workshops in impact play and sexual communication in settings as varied as Good Vibrations, Evergreen University, Femina Potens gallery, and the SF Citadel. Her writing has been published in AORTA magazine, Whore! magazine, and several Cleis Press erotica anthologies. She is currently working on her Masters in Creative Non-fiction Writing in New York and thus cannot even begin to tell you how badly she could use a spanking right now.
Tina will be presenting Feminist Porn as Cultural Critique .

************
Shanna Katz
Shanna Katz, M.Ed, ACS  is a queer kinky disabled feisty femme board certified sexologist, sexuality educator and professional pervert. From topics like increasing communication to non-monogamy,and oral sex to how sexuality and dis/ability intersect, she talks, writes and teaches about the huge spectrum of sexuality, both from personal and professional perspectives. She's using her Master's of Sexuality Education to provide accessible, open-source sex education to people around the country. For more info, please visit her sexuality education site, ShannaKatz.com or KattariConsulting.com (launches December 2011).  @Shanna_Katz
Shanna will be co-presenting Check Yourself: Recognizing Privilege in a Sex Ed Context.
************
Margitte Leah Kristjansson
Margitte Leah Kristjansson is a third-year PhD student in the department of communication at UC-San Diego.  Her research interests include fat activism, uncovering anti-fat bias in media representations of the fat body, examining the many intersectionalities of fat identity, articulating fat culture, the politics of fat fashion, and fat sexuality. @margitteleah
Margitte Leah is a panelist on Chewing the Cyberfat: Body Weight, Size, and Sex Online.
************
A recognized expert on sexuality and relationships, Dr. Logan Levkoff encourages honest conversation about sexuality and the role it plays in American culture. Logan makes it clear that sex and sexuality are not "dirty" words; she works to create an environment where people feel comfortable asking (and getting answers to) their most personal questions. Logan empowers children, adolescents, and adults to embrace their sexuality and challenge the impractical, and often unhealthy, messages that they are exposed to.
As a thought leader in the field of human sexuality, Logan frequently appears on television including Good Morning America, The Today Show, The Rachael Ray Show, Oprah, Fox News Channel, and CNN.  Logan is a trusted source for publications such as Cosmopolitan, Seventeen, Esquire, and Men's Health and has penned sex columns for American Health and Fitness, Maximum Fitness, Ellegirl.com, MarieClaire.com, and The Sexual Health Network. Currently, Logan writes columns for Good In Bed, Fit Pregnancy, POZ magazine, Maximum Fitness, and blogs for The Huffington Post and Dodson and Ross.
Logan is dedicated to perpetuating healthy and positive messages about sexuality. She speaks on a wide range of issues, including sexual health and sexuality education, trends in sexuality, relationship hurdles, and the role of sexuality in pop culture and politics. For over a decade, Logan has been teaching groups of all ages and from a variety of backgrounds. She has designed and implemented sexuality education programs, faculty development, and parent education in many secular and religious independent schools, universities, medical schools, and community organizations. Logan's work with teens and parents has been profiled in numerous publications, including The New York Times.
Logan is the author of Third Base Ain't What it Used to Be: What Your Kids are Learning About Sex Today and How to Teach Them to Become Sexually Healthy Adults (NAL/Penguin, October 2007), which helps parents to understand the role sexuality plays in their children's lives and empowers parents to become better at-home sexuality educators.  Her upcoming ebook, How to Get Your Wife to Have Sex with You (Good in Bed Publications), will be downloadable in October 2011.
Logan has been a spokesperson for Trojan and Trojan Vibrations, serves on the Trojan Sexual Health Advisory Council, and has sat on the Board of Advisors for WET Productions, Maximum Fitness and Parenting Teens Online. She also wrote "The Espresso Dating Guide" (a joint project between Starbucks and Yahoo! Personals), was the relationship expert for Bertolli's "Dinner and Your Movie" campaign, Tupperware's "Chain of Confidence" and "Relationship Reboot" programs, and is a spokesperson for Sealy's "Whatever You Do in Bed…" campaign.
Logan Levkoff is an AASECT certified sex educator. She received her Ph.D. in Human Sexuality, Marriage, and Family Life Education from New York University and an M.S. in Human Sexuality Education and a B.A. in English from the University of Pennsylvania. She lives in New York City with her husband, son, and daughter. @LoganLevkoff
Logan is a panelist on our opening keynote plenary, Momentum: Making Waves in Sexuality Feminism and Relationships, and will be presenting Sex Positive Pundit: Best Practices for Talking Sex in the Media.
************
Serpent Libertine is a veteran sex worker, activist, filmmaker, and educator based in the Chicago-area. She is the current director of Sex Workers Outreach Project-Chicago and former media team coordinator for the Desiree Alliance, and a volunteer with the Chicago Recovery Alliance. She regularly lectures on issues related to sex work and human trafficking at colleges and universities including Northwestern University, DePaul University, Beloit College, and the University of Illinois at Chicago. She is also the current host of the "Chicago Sex Tour" for the Discovery Center in Chicago.
In 2006, she created the video podcast Red Light District Chicago, which has produced short videos such as "Know Your Rights For Sex Workers" and "What I Love About Being a Sex Worker". @RedLightChicago
Serpent Libertine will be co-presenting Ironies of the Anti-trafficking Movement: How Radical Feminism and End-demand Messaging Dis-empowers Women and Fosters Sexual Compulsion.
************
Sinnamon Love
Sinnamon Love is an adult film star, fetish model, professional dominatrix, writer and single mom of three teenagers living in Brooklyn, NY. Since 1993, Love has appeared in over 250 hardcore movies, numerous men's magazines and countless appearances on Playboy TV & Radio. In 2010, Sinnamon took on a year long tour with The Punany Poets of HBO's "Real Sex" fame, a sex positive erotic poetry and sex education theater show. She is a frequent guest on Shade 45 on Sirius/ XM radio, and is currently a staff writer and relationship columnist for TheWellVersed.com. In 2010 she was inducted into the Urban X Awards' Hall of Fame followed by induction into the AVN Awards' Hall of Fame in 2011. Love is an outspoken Autism/ Asperger's parent advocate and has recently taken on improving sex education in Inner City schools.
Sinnamon Love will be on the Feminist Porn as Cultural Critique panel.
************
Robin Mandell
Robin Mandell is a feminist sex educator and toy maven based in the Washington D.C. area.  She holds a Bachelor's degree in Women's Studies from Queen's University in Canada.  Through her blogs and tele-classes,Robin is committed to making pleasure-based sex education fun, comprehensible, and accessible.  She believes that sexual pleasure and empowerment are a birthright for everyone.  Sometimes, though, she just wants to  discuss theoretical concepts like gender fluidity and the understanding of power dynamics.  Through her academic studies and volunteer crisis line work, Robin has discovered that disability issues receive significantly less attention in academia and social justice movements than do concerns of other minority populations.She has developed a passion for starting dialogues on sex and disability, and has come to the realization that, as much as she just wants to be like everybody else, she can use her visible reality as a blind woman to start these dialogues.  @robinstoynest
Robin will be co-presenting Ready, Sexy, Able: Building Collective Knowledge About Sex and Disability.
************
Maggie Mayhem
Eight years ago, Maggie Mayhem took a volunteer job in an HIV testing clinic that changed her life forever. Since then she has coordinated free testing clinics, served as the HIV Senior Specialist at Larkin Street Youth Services, done field work in Tanzania, Africa and has been an out and loud sex worker through it all. She is proud to call Oakland, CA her home of many years. You can learn more about her at her website, MissMaggieMayhem.Com. @MsMaggieMayhem
Maggie is co-presenting Safe/Ward: Combating Abuse in Altsex/BDSM Communities and is a panelist on Putting the Pleasure into Risk and Harm Reduction Sex Education!
************
Ned Mayhem
Ned is a PhD candidate in experimental physics at UC Berkeley. He augments his meager student stipend working as a queer porn performer, and is active in the sex positive scene in the Bay Area. In his free time, Ned tackles the hard science and engineering problems in the PSIgasm project, an open source hobby science project measuring physiological responses to arousal and orgasm. With a background in low noise measurement electronics and advanced data analysis techniques, Ned is excited to put his scientific education to work outside of an academic setting. Ned has also developed adult content distribution software based on open source platforms. This software powers MeetThemayhems.com, and is being implemented in several other independent performer centric porn sites. @The_Ned
Ned will be presenting Citizen Science: Breaking Sex Science Out of the Ivory Tower.
************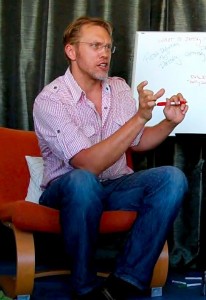 Reid Mihalko
Reid of ReidAboutSex.com helps adults create more self-esteem, self-confidence and greater health in their relationships and sex lives, no matter what their self-expression of those happen to be.
From his rated-PG/PG-13 workshops (Cuddle Party, Speed-Flirting) to the rated-R (Iron Slut Sex Educator Showdown) to his explicit, NC-17 rated, Show-N-Tell sex education workshops (where audiences get to watch, take notes, and ask questions), Reid's workshops have been attended by close to 30,000 individuals from myriad walks of life, orientations, relationship styles, countries and religions. Known for his charisma, wit and emphasis on integrity, Reid travels the country teaching, coaching, consulting and collaborating on fulfilling his mission: Create more self-esteem, self-confidence and health for adults in and out of the bedroom.
Reid has been a featured speaker at dozens of conferences on relationships and sexuality and is a sought-after presenter and teacher at colleges and sex positive stores across the country.
Reid has been a writer and producer on a number of films and television projects about sex and relationships, and appears regularly in the media. He has also appeared on the Emmy award-winning talk show Montel, Fox News, VH1's Scott Baio is 45 and Single, Showtime's Penn & Teller's Bulls**t!, Canada's The Sex Files and SexTV, and the short-lived Life & Style, on NPR, Sirius' Maxim Radio and Cosmo Radio, and in Marie Claire, GQ, Details, People, Newsweek and The National Enquirer, as well as media across the globe in thirteen countries and at least seven languages.  @ReidAboutSex
Reid will be presenting A Case for Show-N-Tell Sex Education: Why Visual Learners Today Are Screwed When It Comes To Sex, Dating, Porn and Relationships and is a panelist on Putting the Pleasure into Risk and Harm Reduction Sex Education!
************
Cunning Minx
Cunning Minx is the sultry-voiced, tireless producer and host of the Polyamory Weekly podcast, sharing tales from the front of responsible non-monogamy from a pansexual, kink-friendly point of view. A kinky boobiesexual, Minx founded the show as a resource for the poly and poly-curious to form a community, share experiences and help guide each other on their journeys of poly and kinky exploration. Minx has been a submissive, bottom and otherwise generally non-dominant type for the past ten years and founded The Lost Generation Chicago, a social club for kinksters and kink-friendly aged 18-85.
Minx has spoken on poly, kinky and Web 2.0 community-building topics at ShibariCon, Geek Girl Con, MomentumCon, Atlanta Poly Weekend, Sex 2.0, Leather Leadership Conference, Dragon*Con, Galleria Domain 2, Heartland Polyamory Conference, New York Poly Pride and Poly Living. The Polyamory Weekly podcast is the winner of the 2007 Erotic Award for Best Podcast and has received accolades from the likes of ErosZine, Fleshbot and the Chicago Sun-Times. @CunningMinx
Minx is presenting How Not to Be a Douche on Sexy Sites.
************
Allison Moon
Allison Moon is the author of the lesbian werewolf novel, Lunatic Fringe, and she currently writing the sequel. An advocate for the democratization of publishing tools, she has written a Self Publishing Manifesto, which can be downloaded for free at her website, TalesofthePack.com. @TalesofthePack
Allison is a panelist on The Publishing Revolution: How Writers, Editors and Publishers are Making New Media Work.
************
Sabrina Morgan
Sabrina Morgan is a dominant phone sex operator and camgirl, a fetish companion, and an occasional porn performer. She has been in the adult industry since 2005 and chronicling her experiences since 2006 at her blog SabrinaInStockings.com. She considers it a personal mission to bring subtlety and the art of the tease back to our sexual consciousness one phone call at a time.
As a supporter of ongoing education for erotic professionals, Sabrina is involved in consulting and training fellow distance sex workers. She presents regularly at sexuality-related conferences on sex work and relationships (whether with clients or with partners).
A reactivated activist and a bi femme with a little nylon fetish, she spends entirely too much time on Twitter. @SabrinaMorgan
Sabrina Morgan is a panelist on Bearing Responsible Witness: Sex Worker Stories and Social Justice and again serves as our Sex Worker Liasion.
************
Megan Morgenson is a writer, activist, and humanitarian dedicated to supporting issues of personal choice and sex positive culture.  As a veteran sex worker of over 18 years, she now writes and speaks about human trafficking and human sexuality.  Megan's strives to not only create better conversations surrounding the diverse experiences of those that engage in, and consume, commercialized sex and erotic services, but to also broaden the understanding of one of our most intimate and complex parts of ourselves: our sexuality.  @MeganMorgenson
Megan is co-presenting Ironies of the Anti-trafficking Movement: How Radical Feminism and End-demand Messaging Dis-empowers Women and Fosters Sexual Compulsion.
************
Tammy Nelson PhD
Tammy Nelson PhD  is a sex and relationship expert, an international speaker, an author and a licensed psychotherapist with over 25 years of experience working with individuals and couples and the author of a book for couples designed to help increase the passion in their relationship. She holds a Doctorate in Philosophy, a PhD in sexology from the American Academy of Clinical Sexology. She is a Board Certified Sexologist, a Diplomate of the American Board of Sexology, a Licensed Professional Counselor, a Registered Art Therapist, a Licensed Alcohol and Drug Counselor, a Certified Imago therapist and an Advanced Imago Clinician.  She is on the Faculty of Sex Coach University, as well as a Faculty Presenter of the Psychotherapy Networker in Washington DC and a member of the American Family Therapy Academy.  This year she will be a key note speaker at the Philadelphia Family Therapist Association conference, is an invited speaker at the Imago International Conference in Copenhagen, Denmark, will hold a Couples Retreat in Puerto Vallarta, Mexico and will have published two new books along with the paperback version of one previously released.
Tammy Nelson PhD is the author of several books including, "Getting the Sex You Want; Shed Your Inhibitions and Reach New Heights of Passion Together"  which will be released in paperback in 2012 as well as "What's Eating You? A Workbook for Anorexia and Bulimia."  Her new book "The New Monogamy; Redefining Your Relationship After Infidelity" will be published by New Harbinger Publications in 2012, and her newest book "Sex On the Download"™  is currently under contract.  She has been a featured expert in Glamour Magazine, Cosmopolitan, Redbook, MSNBC, Healthy Life Magazine, Shape, Men's Health, Men's Health UK, Woman's Day, Twist Magazine, and a source in Time Magazine. She has written for Psychotherapy Networker and other trade journals and regularly blogs for the Huffington Post, YourTango, ThirdAge, GoodCleanLove, and can be followed on her blog www.tammynelson.org/blog/. Tammy is the sexuality expert at the Mayflower Spa in Washington CT, and has taught at Mercy College and the College of New Rochelle.  She is the founder and primary faculty instructor for the Institute for Sexuality and Human Development, a program offering teleclasses and webinars for therapists in the field of psychotherapy, sexuality and human development.  Tammy gives workshops and Intensives for couples and trains therapists around the world on issues relating to sex and relationships. @healhere2
Tammy is presenting The New Monogamy: Redefining Relationships -  Is Infidelity the New Monogamy?
************
Dr. Ruth Neustifter
Dr. Ruthie knows that our sexuality is our most intimate form of body language in our relationships with others, and with ourselves. She is the author of The Nice Girl's Guide to Talking Dirty, a professional development specialist in the mental health world, and works with diverse professionals on skills building and community development within a sex-positive framework. She also spreads sex-positive education through her blog, toy reviews, and brief educational videos.
Dr. Ruth Neustifter holds a Ph.D. in Child & Family Development, with advanced training in Family Therapy and Qualitative Research. She is a recognized relationship expert specializing in sexual communication and education, sex and disability, sex and aging, and recovery from intimate partner violence. She has taught student-therapists in universities, conducts original research, offers workshops, and mentors current and aspiring sex-positive professionals around the world. You can visit her online at ExploringIntimacy.com. @DrRuthie
Dr. Ruthie will be presenting Addressing Intimate Violence in Our Communities and co-presenting Ready, Sexy, Able: Building Collective Knowledge About Sex and Disability.
************
Sarah Elspeth Patterson
Sarah Elspeth Patterson is a freelance writer and a community organizer with the Sex Workers Outreach Project of New York City. She works as a sexuality educator/trainer, teaching teens in the Bronx, Brooklyn and Manhattan. She is a regular contributor to MySexProfessor.com, run by Dr. Debby Herbenick of the Kinsey Institute, and has been published on Alternet, RH Reality Check and Gender Across Borders. Sarah was also a media columnist and staff writer for the Utne Reader award-winning $pread Magazine, the sex worker advocacy publication. She previously worked as the Online Blog Editor for Babeland, the feminist, sex-positive adult toy company. She holds a Masters in Human Sexuality Education from Widener University and lives in Brooklyn, New York. @sarah_elspeth
Sarah Elspeth is a panelist on Bearing Responsible Witness: Sex Worker Stories and Social Justice.
************
Esther Perel
One of the world's most respected voices on erotic intelligence, Esther Perel is author of the international bestseller Mating in Captivity, now in 25 languages. Esther brings a rich multicultural perspective to her work as a couples and family therapist in New York City. Fluent in nine languages, Esther is a frequent keynote speaker around the world. She has been interviewed in leading publications such as The Washington Post, The New Yorker, Vogue, More, and The Guardian. Esther was named one of Elle Magazine's 2007 IntELLEligentia, and is the recipient of the 2009 book award for Society for Sex Therapy and Research. She has appeared on TV shows, such as the Oprah Winfrey Show, The Today Show, CBS This Morning. @EstherPerel
Esther is a panelist on our closing keynote plenary, Sex in America: Changing the Conversation Beyond Smut and Sanctimony.
************
LP Pittari
LP Pittari, MSW,  is a queer social worker passionate about creating positive change through community organizing. LP specializes in LGBTQ and intersections of identity. By day, LP works towards advancing adolescent sexual health, and by night, LP is a social justice activist, working both within the community to enact change as well as with medical professionals and others to increase LGBTQ awareness and inclusively in a variety of practice. For more information, please visit KattariConsulting.com.  @QueerSpeak
Lisa will be co-presenting Check Yourself: Recognizing Privilege in a Sex Ed Context.
************
Joan Price
Ageless sexuality advocate Joan Price met the love of her life, artist Robert Rice, when she was 57 and he was 64. She wrote Better Than I Ever Expected: Straight Talk about Sex After Sixty at age 61 to celebrate the joys of senior sexuality.  Her candid, upbeat manner led the media to dub her "senior sexpert." (She has also been called "our mighty, middle-aged Aphrodite," "the beautiful face of senior sex, who turns up whenever the age group is ridiculed," and a "wrinkly sex kitten," but you be the judge of that!) Joan's new book, Naked at Our Age: Talking Out Loud about Senior Sex addresses the challenges of older age sexuality, with real people's stories and answers from experts.  @JoanPrice
Joan will be presenting Senior Sex Out Loud.
************
Dr. Carol Queen
Carol Queen has a PhD in sexology; she calls herself a "cultural sexologist" because her earlier academic degree is in sociology: while she addresses individual issues and couple's sexual concerns, her overarching interest is in cultural issues (gender, shame, access to education, etc.). She is on the board of directors of the Woodhull Freedom Foundation.
Queen has worked at Good Vibrations, the woman-founded sexuality company based in San Francisco. Her current position is Staff Sexologist and Chief Cultural Officer; her roles include representing the company to the press and the public; overseeing educational programming for staff and others; and scripting/hosting a line of sex education videos, the Pleasure-Ed series, for GV's sister company Good Releasing.
She is also the founding director of The Center for Sex & Culture, a small non-profit sex ed and arts center, and is a frequent lecturer at colleges and community-based organizations. Her dozen books include a Lambda Literary Award winner, PoMoSexuals, and Real Live Nude Girl: Chronicles of Sex-Positive Culture, which are used as texts in some college classes. Her most recent book is an updated second edition of Exhibitionism for the Shy. @carolqueen
Carol will be moderating our opening keynote plenary, Momentum: Making Waves in Sexuality Feminism and Relationships, is a panelist on these three sessions The Dirty Business of Sex Toys, Feminist Porn as Cultural Critique and The Publishing Revolution: How Writers, Editors and Publishers are Making New Media Work.
************
Francisco Ramirez
Francisco Ramirez is an award-winning scholar in sexual health and well-being. For 15 years, Francisco has dedicated his career to responding to the sexual health and public health needs of diverse communities worldwide. A long-term consultant with the United Nations, he leads training, education and research efforts in multiple languages and more than a dozen countries. Additionally, he has consulted on sexual health projects at: Planned Parenthood, Hetrick-Martin Institute, Columbia University, Albert Einstein College of Medicine, and the NAACP.
Since 2008 Francisco has offered free advice on relationships, sex and dating to passersby in New York City parks and streets.
Francisco also serves as a voice in the media on sexual health. In 2010 Francisco guest-hosted the renowned Savage LoveCast with Dan Savage. Francisco is the newest producer and on-camera host at MTV's award-winning Staying Alive campaign, the world's largest youth-focused HIV prevention campaign. Currently, Francisco and his team are developing an original television series on human sexuality. To read more, visit FranciscoRamirez.org. @FranciscoNYC
Francisco is presenting Free (Sex) Advice on a Park Bench: A Not-So-New-Media Approach.
************
Audacia Ray
Audacia Ray is the founder and director of the Red Umbrella Project, where she works to amplify the voices of people involved in the sex industry. At the Red Umbrella Project, Audacia hosts monthly live storytelling events and a weekly podcast, leads media and storytelling workshops, and provides communications support and leadership for individuals and communities who wish to tell their stories and reframe public debate. In 2010, the Village Voice named the Red Umbrella Diaries series and Audacia's blog Waking Vixen to their Best of NYC list. As the Program Officer for Online Communications and Campaigns at the International Women's Health Coalition and a communications consultant for the Global Network of Sex Work Projects, Audacia has worked with activists all over the world to build communications strategies around challenging topics like youth sexual health, sexual rights, HIV, and sex work.
Her skills are rooted in years of experience as an activist, writer, and media maker. Audacia is a former sex worker who was an executive editor at the Utne Reader award-winning $pread magazine for three years and is the author of Naked on the Internet: Hookups, Downloads, and Cashing In on Internet Sexploration. She has been blogging about sexuality and culture since 2004, and has shot and edited a variety of videos and video podcasts, including Naked City TV, a twenty-two episode documentary video show that she produced for the Village Voice in 2008. Audacia also developed a syllabus and taught as an adjunct professor of Human Sexuality at Rutgers University for three semesters. She has a BA from Eugene Lang College at the New School and a MA from Columbia University. @audaciaray
Audacia is a panelist on our opening keynote plenary, Momentum: Making Waves in Sexuality Feminism and Relationships and will be presenting Why the Sex Positive Movement is Bad for Sex Workers' Rights.
************
Carmen Rios
Carmen Rios is a full-time activist and artist based in Washington, DC. A student of Women's, Gender, and Sexuality Studies, she has been involved with online organizing and community building through THE LINE Campaign Against Sexual Assault, Hollaback! National, XOXO SMS: a film about digital intimacy, and more. Her work focuses on nonviolence, specifically consent education, and she founded the (con)sensual Campaign for Consent in 2009. She currently writes for Where Is Your Line?, the blog of THE LINE Campaign, the SPARK Summit, and Autostraddle, a girl-on-girl online magazine and social network.
@c_rios
Carmen is presenting Sexuality and Social Media.
************
Lara Riscol
Lara Riscol is a journalist and speaker who questions the stories we tell ourselves about sex. Published in The Nation, Salon, AlterNet, RHReality Check, with position chapters in several college textbooks, Riscol confronts the smut or sanctimony contradictions exploited by business, politics, religion and today's infotainment media. She's writing a book called "Ten Sex Myths That Screw America: The Case for Pleasure," and has spoken at events from Chicago to Cuba on Sexual Schizophrenia and America's Culture War. Having traveled from born-again Christian, Barbie the cheerleader, and Sgt. Riscol the tank mechanic to feminist mom and sex writer, a media highlight includes a reverend calling her a prostitute during a national radio debate on masturbation.@larariscol
Lara is a panelist on our closing keynote plenary, Sex in America: Changing the Conversation Beyond Smut and Sanctimony and is co-presenting The Pleasure Revolution: Feminst Subversives Then and Now.
************
Nancy Schwartzman
Recently named one of the "10 Filmmakers to Watch in 2011" by Independent Magazine, Nancy's film work explores the intersection of sexuality, new media, and navigating partner communication about consent. She is the director and producer of the award-winning documentary films The Line (Media Education Foundation, 2009) a film about sexual consent and boundaries, and xoxosms (May 2011) an unlikely love story about two star-crossed young lovers in the digital age.
Nancy Schwartzman has worked in violence prevention and film for over a decade. She is the founder of The Line Campaign a sex-positive social enterprise dedicated to empowering young leaders to end sexual violence using original media to inspire action. Her work using film for social change has been cited and supported by The Fledgling Fund, the Center for Social Media, Cinereach Ltd, and the Playboy Foundation. She is a much sought-after speaker, traveling extensively to colleges, conferences, community centers and non-profits including Yale, Brown, Barnard, Sex::Tech, M.I.T., Making Your Media Matter, and the 92nd Street Y. Her films have been shown throughout the United States, and in Germany, Turkey, Israel, Taiwan, Ghana, Liberia, India, Singapore, Lebanon and more. Her work has been featured in The New York Times, The Daily News, The Village Voice, MTV, Indiewire, Bitch, Bust, Jezebel, Good Vibrations and more. Using media and storytelling, Schwartzman opens up a dialogue about desire, consent and boundaries, advising student groups, law enforcement, faculty, and administration on how to foster healthier communities. Currently, she is developing a feature documentary about young female activists in Kabul, Afghanistan and writing a feature script that may or may not be based on a true story. She lives in Sunset Park, Brooklyn, is a graduate of Columbia University, and she didn't go to film school. @fancynancynyc
Nancy is a panelist on Being the Change you Want to See: Helping Stem the Tide of Silence about Sexual Abuse in Sex-Positive Communities.
************
Therese Shechter deftly uses humor-spiked, personal narrative to create award-winning documentaries such as I WAS A TEENAGE FEMINIST and HOW I LEARNED TO SPEAK TURKISH. She's currently working on HOW TO LOSE YOUR VIRGINITY, a documentary about the meaning and power of our so-called precious gift. Shechter writes about virginity and feminism for the film's blog, was a featured panelist at Harvard's "Rethinking Virginity" Conference, and was recently branded a 'Brazen Advocate of Slut Culture' by a Conservative blogger. @trixiefilms
Therese is a panelist on Chewing the Cyberfat: Body Weight, Size, and Sex Online.
************
Monica Shores
Monica Shores has written and spoken about the sex industry, sexual rights, and sexual taboos for over five years. From interviewing "gay for pay" male escorts to writing about her own experiences with anal sex, she's of the mind that there's no such thing as too much information when it comes to sex. Her eternal goal is to de-stigmatize and de-mysticize consensual encounters.
Monica is a regular contributor to Alternet, The Rumpus, Ms., The Huffington Post, Filthy Gorgeous Things, and a former editor of $pread magazine. Her writing has also been included in The Best Sex Writing 2010. @MonicaShores
Monica is a panelist on Bearing Responsible Witness: Sex Worker Stories and Social Justice.
************
Leela Sinha
Leela Sinha is a coach, a writer, a sexuality educator, a wildly liberal minister, and the founder of the 30 Day Pleasure Project, which reconnects people with the pleasure of being alive.   She offers gentle, mischievous coaching that uses pleasure and ease to find the next right step and move forward.
In addition to coaching, Leela has written and edited for places and publications like Scarleteen.com, TransEnough.com, and Salacious Magazine.  Her e-book, First Base, Second Base, Third Base, introduces alternatives to PIV sex in easy, accessible language (because good sex isn't all about the home run).  @LeelaSinha
Leela is presenting Easy Does It: Using Pleasure and Joy to Build Strong Relationships.
************
Lisa Speer
Lisa Speer is a life coach, leader and an affiliate of Accomplishment Coaching. She assists professionals to live joyously from the bedroom to the boardroom. Her openness, compassionate listening and passionate support provide the space for her clients to access their inner wisdom and work through obstacles to fulfill their goals in areas such as sexuality, relationships and career.
Lisa is also a public speaker and leader of workshops and teleseminars. Events and topics include being a panelist with her partners for Explorations in Modern Love: Part I-The Art of Open Relationships at the Open Center, Designing Your Life Outside the Box at Chat Lounge and her workshop and teleseminar series, Heat it Up! Creating Pleasure as a Priority.
Lisa brings to her coaching practice experience in the graphic design, advertising and interactive world. She is an advocate for designing a life you love and her personal life is testament to this: Lisa is in a triad relationship with her romantic partners, Jasmine and Brian. @BED_BOARDROOM
Lisa is co-presenting Self Expression: A Discussion on How to Be Yourself Online and Offline.
************
Sara Avant Stover is a motivational speaker, teacher, mentor, and the bestselling author of The Way of the Happy Woman: Living the Best Year of Your Life (New World Library). After a cancer scare in her early twenties, Sara moved to Thailand, where she embarked on an extensive healing and spiritual odyssey throughout Asia and served as one of the pioneer Western yoga teachers in that part of the world. She now lives in Boulder, Colorado, and continues to teach women about wellness, spirituality, and lifestyle around the world. @saraavant
Sarah is presenting Spread Your Legs & Open Your Heart: How Living Your Sexuality Brings the World to Its Knees.
************
Kitty Stryker
Kitty Stryker is a curvaceous courtesan splitting her time between tying people up in SF alleyways and helping clients (both able-bodied and not) realize their sexual possibilities in London. She has additionally worked with the Bureau of Erotic Discourse discussing negotiation and consent at Burning Man. In her copious free time, she's an Erotic Award winner for Ladies High Tea and Pornography Society, a founding member of Kinky Salon London, a lecturer about sex work, and a fierce queer femme. Kitty blogs about her professional and personal experiences at Purrversatility.blogspot.com. @KittyStryker
Kitty will be co-presenting Safe/Ward: Combating Abuse in Altsex/BDSM Communities and is a panelist on The Publishing Revolution: How Writers, Editors and Publishers are Making New Media Work and Being the Change you Want to See: Helping Stem the Tide of Silence about Sexual Abuse in Sex-Positive Communities.
************
Bill Taverner
BILL TAVERNER, M.A., C.S.E., is the director of The Center for Family Life Education and is the editor-in-chief of the American Journal of Sexuality Education.  He has co-authored many sex ed teaching resources, including "Older, Wiser, Sexually Smarter"; "Sex Ed 101″; "Streetwise to Sex-Wise" and seven editions of "Taking Sides: Clashing Views in Human Sexuality".  A trainer of thousands throughout the United States, who has twice advocated for sexuality education at U.S. Congressional briefings, Bill has received national awards recognizing his leadership in sexuality education, including the first "Schiller Prize" given by the American Association for Sexuality Educators, Counselors, and Therapists for best workshop using interactive strategies and the "Golden Apple Award," given by the Association for Planned Parenthood Leaders in Education.  In an award given by the online journal Sexual Intelligence, Bill was named "one of the country's pre-eminent sex educators, trainers, and sex education theorists." @sexedjournal
Bill is a panelist on our opening keynote plenary, Momentum: Making Waves in Sexuality Feminism and Relationships, and is presenting New Technologies, New Opportunities in Sex Ed.
************
Rachel Venning
Rachel Venning is the co-owner of the sex toy store Babeland, the co-author of the books Sex Toys 101 and Moregasm, and a regular blogger at momsinbabeland.com
Rachel is presenting Staying True to Yourself and is a panelist on The Dirty Business of Sex Toys.
************
Anita Wagner
Anita Wagner is a polyamory and sexual freedom advocate, coach, blogger, spokesperson and educator. She is a past organizer of the Polyamory Leadership Summit and serves as polyamory community advisor to CARAS – the Community-Academic Consortium for Research on Alternative Sexualities.   She is a faculty member at KinkAcademy.com.
Anita has served as a member of the Boards of Directors of several non-profit organizations that advocate for sexual relationship freedom, including the National Coalition for Sexual Freedom.
Anita is the partner of a sex addict in recovery and has on multiple occasions presented programs on sex addiction in sex-positive culture, including at Momentum con 2011.  She has presented workshops on polyamory relationship skills and polyamory in the media at many cons including Poly Living, Transcending Boundaries, Washington Area Secular Humanists, Sex 2.0, Dark Odyssey, Fet Fest, The Floating World, Southeast Leather Fest, Free Spirit Beltane Gathering, at Good Vibrations, Poly Pride, and a variety of alternative sexual and relationship organizations.
Anita has appeared on television in interviews on polyamory in Washington, DC and Baltimore and in news articles in  Newsweek, the Baltimore Sun, Washington Post and Salon.com, amongst many others. @AnitaWagner
Anita is presenting Sex Positivity and New Media.
************
Nadia West
Nadia West is a polyamorous, pansexual, kinky, submissive, and feminist librarian. She blogs about kink, feminism, sexuality and other topics at Diary of a Kinky Librarian. She's been blogging about sexuality for approximately six years, five years at her current blog.  @nadiawest
Nadia is a panelist on Being the Change you Want to See: Helping Stem the Tide of Silence about Sexual Abuse in Sex-Positive Communities.
************
As an out and proud prostitute, Patricia West served as a prominent media spokesperson during the campaign to decriminalize consensual adult sex work in San Francisco in 2008. She currently works as an independent escort in the Bay Area. As a member of the core leadership for SWOP Bay Area, her focus is on sex education, public outreach, and decreasing stigma related to sex work.  @swopbay
Patricia is a panelist on How to Be an Ally to Sex Workers.
************
Shannon Williams has been doing sex work for the better part of 16 years. Her arrest in 2003 became a national news story ("Berkeley High School teacher arrested for prostitution") and helped launch SWOP. In addition to doing sex work, Shannon also works to make life better for her fellow sex workers by doing political work with SWOP, educational work with Whorespeak, peer counseling at the St James Infirmary, a health and occupational safety clinic in San Francisco specifically for sex workers, and by raising three sex positive boys.
Shannon is a panelist on How to Be an Ally to Sex Workers.
************
With 17 years experience in various realms of the sex industry, Pele's current focus is on education and community building. Pele works in San Francisco as a  professional dominant and facilitates a course with a focus on leather and BDSM. A fierce advocate for sex worker rights, Pele serves as core leadership in SWOP Bay Area. @swopbay
Pele is a panelist on How to Be an Ally to Sex Workers.
************
Stef Woods
Stef Woods is a university professor, attorney, sexuality educator, writer, and women's health advocate. She teaches Activism and Social Media, and Sexuality and Social Media in Washington, DC. She also writes about relationships, sexual health, and dating on her blog, City Girl's Blog.
In 2010, Stef was diagnosed with breast cancer at the age of 37. She has openly shared her experience with others via photographs, interviews, runway shows, panel discussions and her blog to encourage early detection and raise awareness.
Stef has been featured on Let's Talk Live, and in numerous online publications and talk shows, including NBC Niteside, In the Den with Dr. Jenn, and The District Dish. She was profiled in the fourth edition of Dr. Janell Carroll's textbook, Sexuality Now, and Sibley Hospital's On Health magazine. She has served as a panelist at the Social Learning Summit at American University, the Momentum Conference on Sexuality, Feminism and Relationships, and the DC Humanities Council Social Media Series.
Stef received her BA from Wellesley College, her MA from Georgetown University, and her JD from American University. She is a member of the American Association of Sexuality Educators, Counselors and Therapists, American Bar Association, and Maryland State Bar Association. @citygirlblogs
Stef is presenting Sexuality and Social Media.
************
Laura
Laura has been writing online for six and a half years and helping clients with their own WordPress websites for most of that time, both in the digital realm and with in-person classes. She holds a Master's in English Literature. In her free time she enjoys reading books and petting her cats. This is not a euphemism. @_Laura33_
She will be co-presenting Blogging 202: Take Your Site to the Next Level.
************